BEACH ENCLAVE, TURKS & CAICOS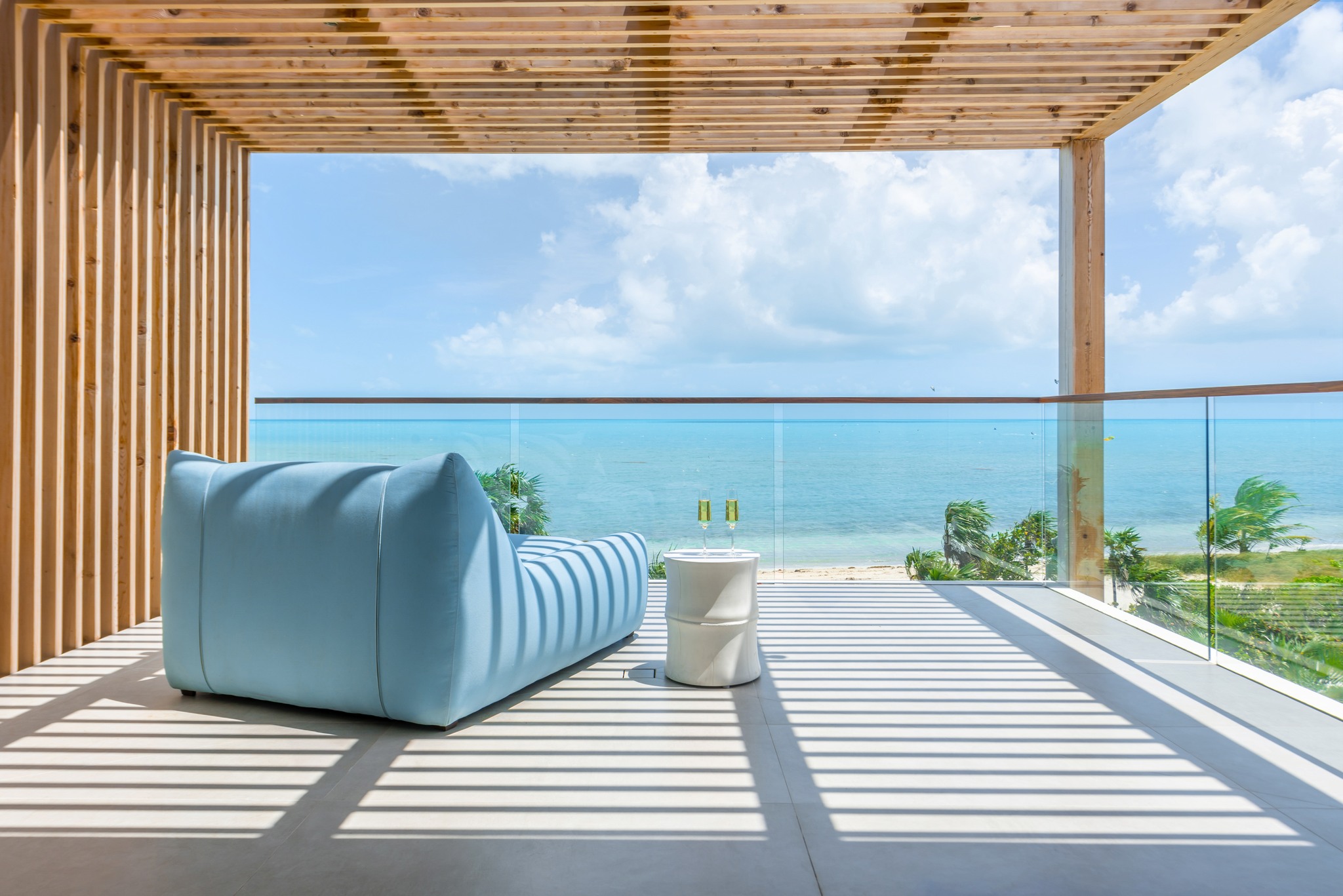 UNDERWATER
SCULPTURE GARDEN
Innovative reef relief & coral regeneration
HUMPBACK WHALE
ENCOUNTER
1 of 2 destinations in the world where travelers can swim with humpbacks
REDUCE, REUSE, RECYCLE
Implementation of the 3 R's via shift to plastic-free, compostable, biodegradable, and more ethically responsible purchasing
STAKEHOLDER THINK TANK
Resource & Idea Aggregate Platform for Villa Operators and Owners; "BE Involved"
The Client
A trio of luxury residential enclaves in Providenciales, Turks and Caicos Islands, each comprising a small selection of beachfront and hilltop villas that can be reserved for short getaways or longer stays. Each measuring 7,000-10,000 square feet and featuring modern indoor and outdoor living spaces, the 27 villas are strategically positioned in private enclaves on the island's most beautiful beaches and have soaring ceilings, infinity-edge pools, signature outdoor showers, multiple terraces, and decks for al fresco dining and lounging. All staffed villas include a dedicated concierge, a private butler, and a personal chef.
The Task
Beach Enclave hired The Legacy Untold to develop and articulate distinct brand signatures as a means to diversify the generic Caribbean offering, to propose luxury and experiential solutions weaving conservation and sustainability into current operations, and to ideate around larger holistic opportunities to drive long-term value for their team, clients, stakeholders, and surrounding natural assets and local communities.
How can a luxury property make a sustainable shift on an energy-dirty island where charging your Tesla emits more carbon than filling your tank and everything but the salt to season your dish is imported from elsewhere?
The Legacy
The Legacy Untold delivered a high-level report detailing over 100 specific recommendations as to how to [augment/diversify/improve synonym] the current experiential offering, improve the level of guest experience and service delivery, and achieve higher levels of sustainability, across the below categories and with the following pillars in mind.
PILLARS
(1) Making sustainability sexy
(2) Making guest experiences exciting as well as Earth positive
(3) Clients viewing the sustainable choice as an upgrade
(4) Not letting perfection be the enemy of progress
CATEGORIES
On-Property Guest Experiences/Immersions
Experiential development including an underwater sculpture garden as part of coral regeneration efforts, alfresco film nights with curated film recommendations, a signature elaborate bath turndown, an Indigenous Garden, and interactive culinary programming. 
Off-Property Guest Experiences/Immersions
Experiential development including a humpback whale encounter, a signature castaway picnic on a disappearing sandbank, a shark tagging program, and a sea turtle snorkel immersion. 
Responsible Purchasing & Reduce/Reuse/Recycle Initiative
– Signature Turndown Initiative with a focus on local procurement (e.g. a luxury line of sea salt products, a signature scent, and hand-blown glass decanters)
– Plastic Free Initiative with a focus on design-conscious, reusable, biodegradable, compostable replacements for items including straws, saran wrap, trash liners, plastic pouches, and water bottles.
– Locally Sourced Initiative including a partnership with local fishermen to source seafood, and utilizing the on-site Indigenous Garden for interactive cooking with/by the villa's dedicated butler or private chef.
Kids Programming Initiative
On-property activities and amenities requiring a minimal operational lift. Suggestions included zero-waste beach kits, whale toys with a built-in hydrophone recording of local whale vocalizations, and noctilucent kites to provide an alternative experience to letting lanterns loose on the beach.
Teens Programming Initiative
On-property activities and amenities requiring a minimal operational lift. Suggestions included underwater scavenger hunts and photography classes, virgin mixology courses using ingredients from the on-site Herb Garden & Indigenous Garden, alfresco film nights, and pizza making competitions.
Short-Term Wellness Initiative
Short-term solutions to satisfy immediate needs with a longer-term wellness concept in the pipeline. Suggestions included curated experiential packages such as "Exercise by Adventure" and a "Wellness-Focused Sojourn" with an underlying healthy F&B initiative.
No-Cost Solutions
A wide range of solutions from the use of a stargazing application on eventual in-villa iPads and music playlist curation, to training chefs to up-cycle food scraps (e.g. if perfect cubes of watermelon are used in a salad, puree the odd cuts for a cocktail), implementing a nightly round by staff to prevent excess water and energy consumption and lower associated costs, and innovative reef mapping. 
Holistic Sustainability Integration
Development of mission, vision, core values, and sustainability messaging.
Branding & Marketing
Development of brand signatures for web, media, travel trade & press.
Other Suggestions
A wide range of solutions from in-villa composting, to instagrammable moments, local symbiotic partnerships, and a red light sea turtle initiative, involving the installation of lights that auto-switch to red at night, a practice used in many beach locales as a conservation effort for sea turtles as they are extremely sensitive to light.