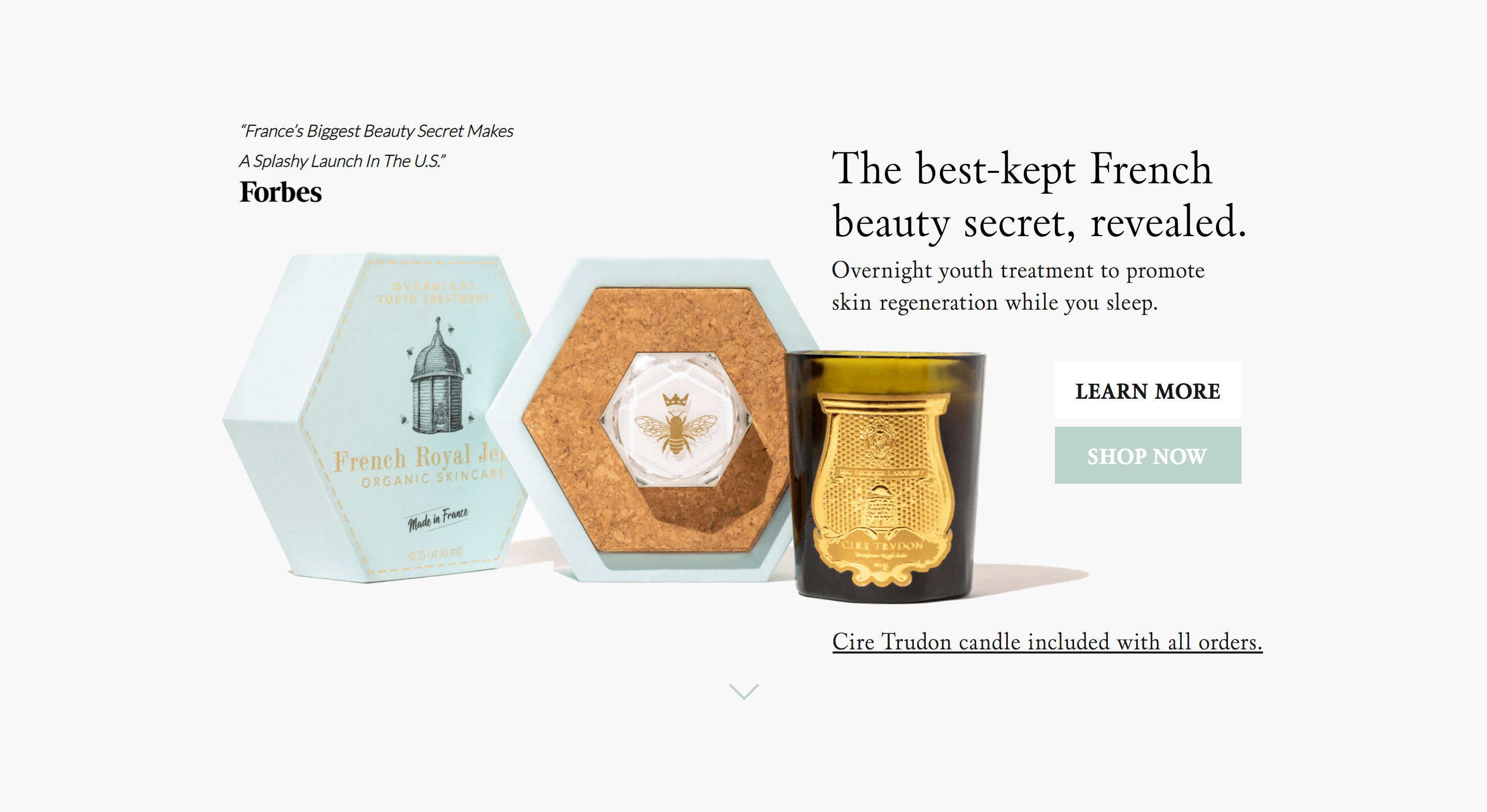 THE LEGACY UNTOLD'S CUSTOM STRATEGY
PARTNERSHIP
HIGHLIGHT
Fairmont
Hotels & Spas
EDITORIAL
SPLASH
"France's Biggest Beauty Secret Makes a Splashy Launch in the US" – FORBES
CELEBRITY
ENDORSEMENT
Drew Barrymore
PARTNERSHIP
HIGHLIGHT
Cire Trudon: Oldest Candlemaker in the World (1643)
A Word From Our Client
"The Legacy Untold took our start-up company from completely unknown to being positioned among industry leaders in six months. Our engagement with The Legacy Untold was joyously expanded month after month, as they surpassed our wildest dreams in a notably broad range of tasks. Throughout the process, The Legacy Untold and its founder Mark Lakin tapped an astonishing number of impossible to reach beauty industry titans conducting extensive market research. They shared this information with our team and then with our feedback designed and executed an impressively effective and highly detailed launch strategy. The Legacy Untold worked within our limitations as a small start-up, while simultaneously pushing us to reach for what is typically exclusively reserved for beauty industry giants. The Legacy Untold raised our benchmark for success immediately out of the gate and then soared above it. We are eternally grateful to them." – Stacey Bent, French Royal Co-Founder 
The Client
French Royal delivers a luxurious result-oriented, cruelty-free, clean & organic beauty product called French Royal Jelly – with a holistic approach to wellbeing and the highest level of respect for the environment. French Royal Jelly combines cult French beauty secrets with the extraordinary ingredient of the Pyrénées beehive: royal jelly.
In Fall 2020, French Royal launched with their hero product – French Royal Jelly – a single ingredient overnight youth treatment designed to promote skin regeneration while you sleep. Using organic royal jelly harvested respectfully and minimally by hand in the Pyrénées mountains of southwest France where the bees are free range and consume a diet of wildflower pollen and water from crystal clear flowing streams.
Royal jelly is an organic naturally occurring superfood produced within the hive by 70,000 honeybees exclusively for their one Queen. This miracle of nature is rich in nutrients and antioxidants and propels the Queen to grow to 4x larger and live up to 70x longer than the other bees. Royal jelly also gives the Queen Bee the extraordinary ability to repopulate the hive by laying over 2,000 eggs per day.
The Task
To launch and unveil the French Royal brand to the US Market. To develop and execute a comprehensive launch strategy including: chic sustainable packaging, elevated luxury French branding, sleek minimal web design, prestigious editorial press, top influencer coverage, symbiotic brand partnerships, securing additional investment to expand the line, and an established seat at the premier table within the competitive space that is the beauty industry.
The Legacy
French Royal X Fairmont
The Legacy Untold facilitated the introduction and eventual partnership between French Royal and Fairmont Hotels & Resorts. The Legacy Untold initially conducted a strategic assessment for optimal product placement and sampling for the brand, which eventually led us to seek out luxury spas across the world. We then went one step further and sought a wellness group that shared our client's deep rooted and guiding conservation values.
Fairmont Hotels & Resorts has been committed to proactively protecting its local environments for almost 30 years. In 2008, Fairmont Hotels & Resorts developed a Corporate Social Responsibility program exclusively devoted to global bee sustainability. In 2021, the entire French Royal line will be available for purchase in Fairmont Spas worldwide and 10% of all French Royal profits will go toward supporting Fairmont Hotels & Resorts global bee sustainability efforts.
French Royal X Cire Trudon 
Founded in 1643, Cire Trudon are the oldest candlemakers in the world. Cire Trudon candles feature throughout Versailles, savored by the royal family for generations, including Louis XIV and Napoleon I. Each candle is made of an eco-friendly vegetable wax perfected over centuries and expertly blended by hand into ornate hand blown glass jars.
The global candle market was US$ 3.45 billion in 2018. The range is projected to touch US$ 6.06 billion by 2025. The consumer desire for and spend on luxury candles is on a trajectory of exponential growth.
In seeking to leverage the reputation and reach of a top French luxury brand for our client's launch, as well as the exploding demand for luxury candles among the projected customer base, we partnered French Royal with Cire Trudon.
To the delight of customers and press, each caviar jar of French Royal Jelly now comes with a complimentary co-branded Cire Trudon candle, valued at $55 USD.
Niche Industry Feedback
We solicited our network of top level and tenured beauty industry executives to advise on every aspect of our client's product formulation, packaging, branding, messaging, sales strategy, digital presence, press and influencer strategy, partnerships, and launch. We believe that an obsessive attention to detail and a careful crafting of company collateral no matter how small, are the essential building blocks of effective branding and genuine storytelling.
Sustainable Packaging Design
Our studies of consumption patterns show that 57% of consumers are willing to change their purchasing habits to help reduce negative impacts to the environment. French Royal is ahead of the curve in environmental consciousness and its commitment to leave our planet better than they found it. The Legacy Untold navigated the ever changing terrain of sustainable packaging, sourcing a selection of both standard and unconventional options, some of which had yet to make their way into public domain. The next phase of French Royal's launch will include being among the very first to use 100% biodegradable plastic. Our knowledge and network allow for innovative solutions that aren't mainstream yet – giving our clients the ability to be among the firsts and positioning them as pioneers.
Press
Over the course of just two months, we secured French Royal with press placement in a wide selection of top tier publications including Forbes, Town & Country, DuJour Magazine, Byrdie, US WEEKLY, Grazia & POPSUGAR.
Although not the focus at this time, we were also able to secure Instagram coverage with a broad range of top influencers such as Flaviana Matata (Fashion Model, 1.5M), Eva La Rue (Emmy Award Winning Actress, 187K), and Lee Woodruff (New York Times Best Selling Author), Avril Graham (Beauty Editor, Harper's Bazaar), Kasey Caminiti (Editor, DuJour Media), and dozens of micro-influencers specializing in beauty and luxury lifestyle.
Pending Publication: Wall Street Journal, British Vogue, ELLE, Martha Stewart Living, The Zoe Report, Refinery 29, Allure, Yahoo.com, Travel+Leisure, The Strategist, The Financial Times, Marie Claire.
Web Design & Social Media
The Legacy Untold ideated, designed and executed French Royal online presence – including their website and social media.